University Admission
DU B Unit Result 2021-2022 – admission.eis.bd.ac.bd.
DU B unit admission test held on 04 June 2022 and result will announce on 27 June 2022 (01.00 PM).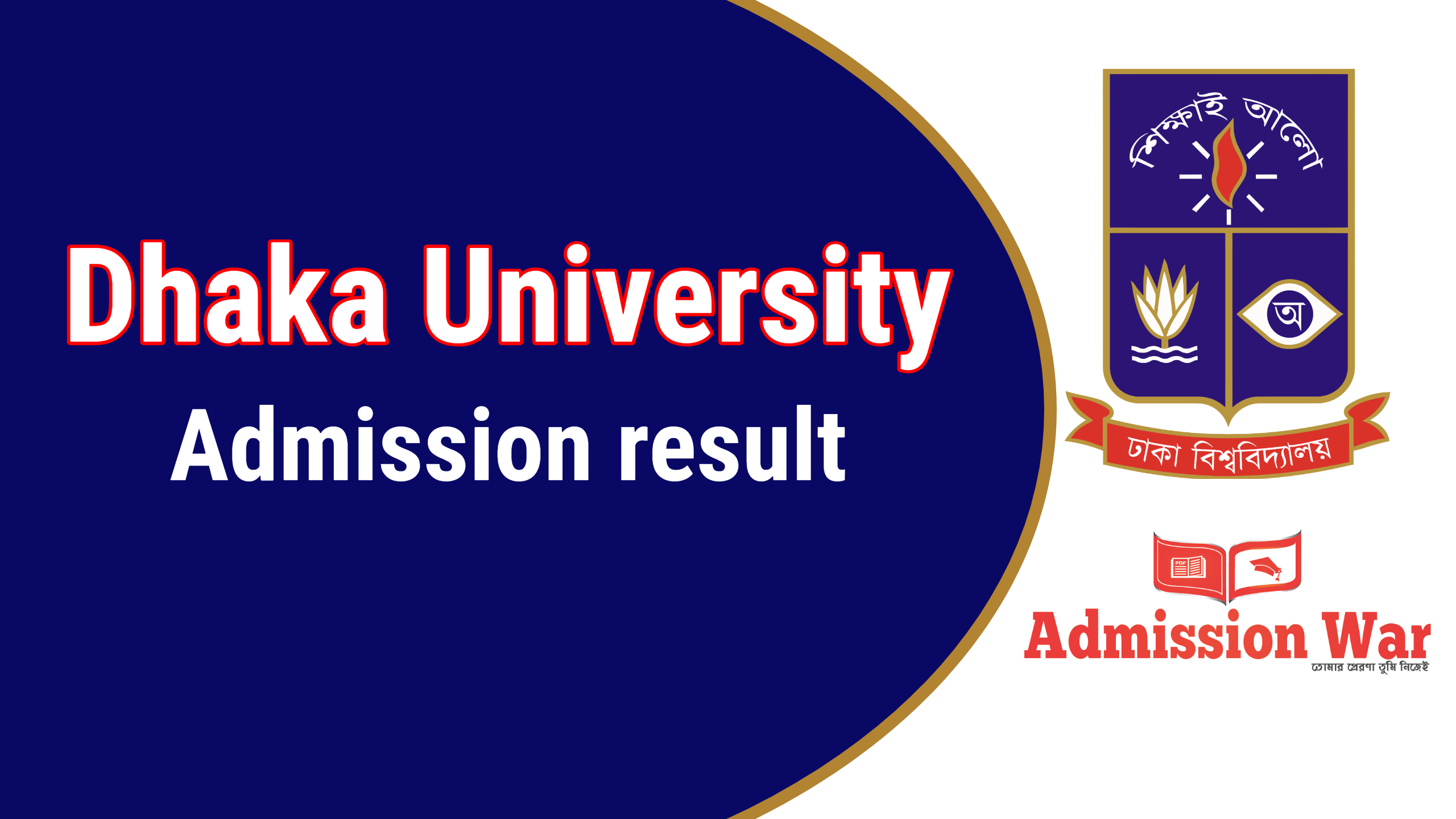 Dhaka University B unit admission merit result 2021-2022 PDF. DU B unit result 2022 has been announced on its official admission website link admission.eis.bd.ac.bd. However, students who are arts background participated on admission test. This article depicts DU B unit result checking process online & SMS,  result publish date, total number of seat and other related information that are related to Dhaka University B unit admission result.
DU B Unit merit list result will be announced on 27 June 2022 (01.00 PM) !
Dhaka University DU B Unit Admission Result 2021-2022
The Dhaka University admission circular 2021-2022 was published earlier this year, the application ended on 10 May 2022. After a lot of delays, B unit exam held on 04 June 2022. This time there was no way that the exam could have been delayed, the authority took all the necessary steps and made everything possible.
Overview
Institute Name: Dhaka University

Exam Name: Dhaka University B Unit Admission Exam

Exam Date : 04 June 2022

Result Publish Date: 27 June 2022 (01.00 PM)

Pass Rate :

Website Link: admission.eis.du.ac.bd
DU B Unit Admission Merit List 2022
Dhaka University's 2021-22 academic year graduation (honours) first year Arts Faculty 'B' unit admission test held on 04 June 2022 . In this unit 56 thousand 554 people have applied against 1 thousand 6 seats. As per statistics, there are 33 candidates per seat. However, Dhaka University DU B unit merit result will announce on 27 June 2022. DU admission candidates can check DU B unit merit list result 2022 from this post with extra information.
DU B Unit Result 2022
Dhaka University DU B unit result 2022 will be displayed in the Dean's Office of Dhaka University and also published on DU Admission related website admission.eis.du.ac.bd. Follow the steps below to view DU KHA unit admission merit list result & B unit waiting list result online.

admission.eis.du.ac.bd
First of all, go to the Dhaka University official admission related website- admission.eis.du.ac.bd
After landing on the website, click on Login "button.
Input your academic details and click on Submit button.
After successfully login your dashboard, you can see your DU B unit result 2022.
Server is now too busy, so wait for while after clicking the result button.
Pass Marks for B Unit
Dhaka University B unit admission pass marks is 40 out of 100 marks. Candidates will failed to place DU B unit Merit result 2022 if they do not get 40 marks. At the same time, in the MCQ part of the admission test, the candidate will be considered as having passed with minimum 05 marks in Bengali, minimum 05 marks in English, minimum 10 marks in general knowledge and at least 24 marks in total.

In case of A-Level concerned, as an alternative to Bangla subject, one has to get minimum 05 marks in Elective English (if applicable).
Candidates have to get minimum 11 marks in the written test. Of these, minimum 05 must be found in Bengali and minimum 05 in General English. The conditions mentioned above will be equally applicable in case of 'A' level.
Note: Candidates should keep in mind that one correct answer number can be deducted for every four incorrect answers. That means 0.25 number can be deducted for each wrong answer.
Merit Score Count Process
DU B unit merit list result 2022 of the candidates will be prepared on the basis of 120 number ( MCQ: 80, written: 40, HSC/ equivalent result: 10, SSC / equivalent result: 10 ). For this, multiply the GPA obtained by the students in the SSC / equivalent examination by 2 and the GPA obtained in the HSC / equivalent examination by 2. The result of these two MCQ and the written part will be combined with the number obtained in the admission test of 100 marks and the merit score of the examinee will be made on the mat 120 number.
The answer sheets of the written part of the student will be evaluated up to four times the maximum number of seats allotted in B-unit among the passers in MCQ part.
What you should bring for Interview
Interviews will be conducted on the date announced by the Dean's Office of the Faculty of Arts. Students must be bring –
 Admission test admission card.
Original number sheet / transcript of SSC & HSC examinations.
Two copies of passport size color photograph should be brought.
Prior to the interview, the candidate has to fill up a 'preference form' online by entering the name of the department of his choice on priority basis.
Candidates who have passed will be interviewed only on the basis of Du B unit result 2022. Some more candidates will be called for than the allotted number of seats due to the fact that some candidates may be absent. However, once the number of seats is filled, the interview for admission in the concerned department or departments will be closed.
Candidates will be given a nomination form mentioning the last date of appointment in the concerned department if they are nominated for admission in the particular department during the interview.
A number of candidates may be required to be interviewed even after the first announced merit list to fill the required number of seats in Arabic, Persian Language and Literature, Urdu, Sanskrit, Pali and Buddhist Studies, Theater and Performance Studies, Music and Dance. But in this case keep in mind only those who meet the conditions for admission in all these departments will be interviewed according to Dhaka University B unit admission result 2021-2022.

Departments & Subjects
Dhaka University Unit B has over 10 Faculties and Institutes. Since you have taken a part in the admission exam, so it would be better if you get to know about the available departments.
Faculty of Arts
Faculty of Social Science
Faculty of Law
Faculty of Earth and Environmental Science
Faculty of Biology
Institute of Social Welfare and Research
Institute of Health Economics
Institute of Education and Research
Institute of Disaster Management and Vulnerability studies
Modern Language Institute
Things to be noted that the students of Humanities cannot get admitted into the mentioned 1-10 faculties from D Unit.
Hello! Candidates, Did you know?
According to the central admission office of DU, 36,250 students applied against 2,378 seats of KHA (B) unit
Important Papers for Admission 
The students who will get merit position in DU KHA unit result  and get selected have to do some errands for admission. Here is the list of things you have to bring with you.
8 copy recently taken passport size color photo
Main mark sheet/transcript of SSC and HSC exam and two photocopies of them
Main copy and two photocopies of HSC main admit card
Income report of the guardian
Testimonials provided by the applicants' respective college principals.
Our Admissionwar team is always here to help the candidates. We always try to provide reliable information but if you find any kind mistake, please us know.